About Us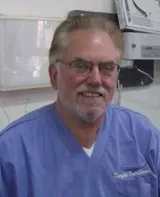 Dr. Frank Gober was born and raised in Brooklyn, New York. He attended New York University College of Arts and Sciences where he received a Bachelor's degree in Biology. Dr. Gober received his Doctor of Dental Surgery degree from New York University College of Dentistry. He was elected to membership in the Omicron Kappa Upsilon Dental Honor Society for being in the top 10% of his graduating class. Dr Gober attended a residency program at West Jersey Hospital in south New Jersey where he concentrated on general dentistry, trauma and dental surgery.
Dr. Gober has been practicing dentistry in south Florida at Deerfield Dental Services for over 40 years. He is an active member in the American Dental Association, the Florida Dental Association, the Academy of General Dentistry and the Gold Coast AGD. He has also been very active in the Broward County community and a volunteer dentist for the Dental Volunteers for Israel multiple times since the 1980's.
Dr. Dannit Chen was raised in Boca Raton, Florida where her family still resides. She graduated from Nova Southeastern University's College of Dental Medicine in Ft. Lauderdale where was awarded her D.M.D. degree. She has broadened her scope of care by completing various advanced and continuing education courses for implant dentistry and esthetics to better serve her patients. Dr. Chen is also a Certified Invisalign Provider. She is currently a member of the American Dental Association and the Florida Dental Association.In addition to furthering her education, Dr. Chen enjoys providing treatment for the underserved and giving back to the local community. She has participated in numerous public health outreach programs in the area delivering free dental care to the disabled and underserved populations in South Florida. She has worked with programs such as Kids in Distress, Caridad Clinic, and Care Resource giving patients an opportunity to have quality dental care they would not otherwise receive.Before returning to her roots, Dr. Chen practiced dentistry in Boynton Beach, Florida providing comprehensive and advanced cosmetic care to her patients. She has since returned to Boca Raton to be closer to her family and serve the community she calls home. Outside of dentistry, Dr. Chen was born in Israel and moved to florida when she was 3 years old. She enjoys boating as well as other water sports, and spending time with her friends and family.When it comes to dental care, Dr. Chen takes a patient-centered approach. She listens to each patient's individual concerns and dental goals, making certain her patients feel as comfortable and relaxed as possible. Her ultimate goal is to always provide a trusting environment where patients feel as though their individual wants and needs are being met. Her patients' health and well-being are extremely important to her, and she strives to provide the highest standard of dental care while exceeding her patients' expectations for personal care, comfort and compassion.
Dr. Ari Socher was born and raised in Monmouth County New Jersey. After earning his Bachelor in Science degree in Biology at the University of Massachusetts at Amherst he pursued his aspirations of becoming a Dentist and completed his Doctorate of Dental Medicine Rutgers University School of Dentistry where he graduated with honors. Dr. Socher completed his post-graduate training at Jackson Memorial Hospital in Miami, FL where he focused on General Dentistry, Oral Surgery and facial trauma.